LEARNING IS FUN!
At Renascence School International™ students build friendships, participate in cultural activities and help in the community. What a wonderful way to learn, grow and prepare for life in the 21st Century.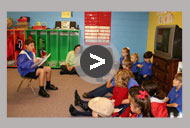 Renascence School International campuses offer their students a learning experience like no other

In the spring of 2009, the Renascence School International (RSI) Panama City Campus received national recognition for the quality of its program. RSI uses highly recognized curricula from around the world for math, creativity, English, science, history and foreign languages. These well-recognized materials are enhanced to provide students with a unique learning experience. In addition to a special learning approach, the schools have outstanding teachers with classroom experience, strong subject matter expertise and non-teaching work background. All teachers go through a rigorous RSI credentialing program.